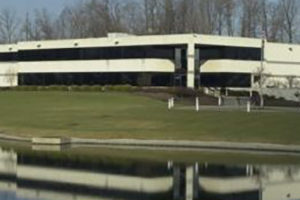 Adena Tool, Dayton (now Tipp Machine and Tool)
Type of Project: 2-story block and bar joist
Duration of Project: 14 months
Square footage: 63,000 sf
Noteworthy Comment: Extensive site work was necessary prior to construction that involved converting the land from a hole to suitable terrain including the development of a retaining wall and a retention pond.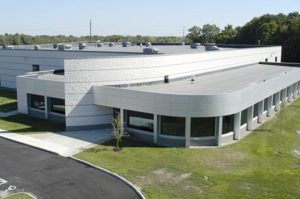 A.F. Leis, Vandalia
(now CoorsTek Medical)
Type of Project: State-of-the-art tooling facility, combination of metal building, CMU and Alucobond
Duration of Project: 14 months of development and site selection; 11 months construction
Square footage: 65,844 sf
Partners: Varco Pruden
Noteworthy Comment: Varco Pruden, the metal building supplier, developed a clear-span building with bar-joists and metal decking, over which Vancon applied standard rubber membrane roofing. V-P designed and furnished the structural steel, outsourced the joists and deck, yet sold the entire package to Vancon as a single-source. This project received recognition from Associated Builders and Contractors as well as Varco Pruden Hall of Fame.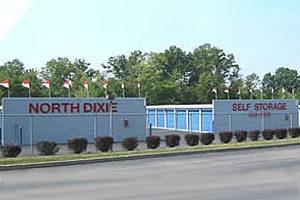 North Dixie Self Storage, Butler Township
Type of Project: Traditional and climate-controlled metal storage buildings
Duration of Project: Multi-phased 15-year period
Square footage: 14 buildings, 735 units, 116,000 sf
Partners: Varco Pruden and Trachte Metal Building Systems
Noteworthy Comment: Over the multi-year building phase, it was necessary to negotiate the acquisition of an adjacent 4 acres of land in order to expand and address the water detention needs.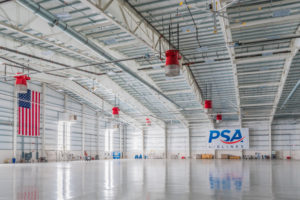 PSA Hangar Pre-engineered Building, Dayton Airport
Type of Project: Clear-span pre-engineered structure
Duration of Project: 7 months
Square footage: 70,792 sf
Partners: Varco Pruden Pre-engineered Metal Buildings and Staffco Construction
Noteworthy Comment: 70,000 sf clear-span building – no columns to interfere with planes. Structure was erected in the winter.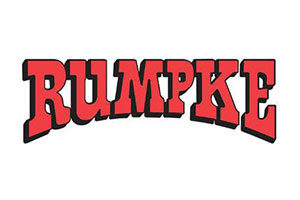 Rumpke Waste & Recycling, Dayton
Type of Project: Design/build pre-engineered steel addition to existing facility for Compressed Natural Gas repairs.
Duration of Project: 7 months
Square footage: 10,430 sf addition includes a 2-story finished area
Partners: American Buildings
Noteworthy Comment: Included provisions for a 5-ton, 52 ft span bridge crane.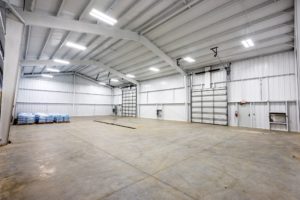 Wright State University/ODOT Maintenance Facility, Fairborn
Type of Project: Multi-faceted project including pre-engineered metal buildings, block buildings and road construction
Duration of Project: 10 and 1/2 months
Square footage: Scope included 4 buildings and 2 storage areas, as well as on-campus roadway work.
Partners: Kleingers Group, David Marshall, PE. and Alan Scherr, Architect
Noteworthy Comment: This facility is jointly utilized by ODOT (storage barn and brine tanks) and Wright State University (salt storage, equipment storage and roadway maintenance). Vancon worked in conjunction with the parties to value engineer the project, removing over $1 million from the original bid.
"Our building project with Vancon was an undertaking of major proportions from our perspective. From the outset, your input and guidance helped us understand, from a construction point of view, what would be feasible and cost-effective. At various times we presented you with challenging desires and your people never flinched or threw up their hands in frustration. Their attitude was always 'get the job done; this is what is wanted!'"
"I must say this was a project well done and Vancon earned our respect for integrity and effort. We'll be looking forward to the day when we can call you and say 'Let's add on!'"
– Charles Leis, CEO, A.F. Leis Company